Woo...two posts in one day? Slow down fast car! I'm a day late to link up with Shell, but I thought I'd jump in anyway since this has been on my mind.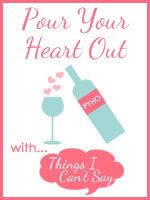 For any of my new friends who don't know, Husband is a stay-at-home dad. He takes care of the Pie and I go to work. It sucks.
Watching them together is perhaps the greatest joy in my life. He loves her with everything he is and the feeling is mutual. She is the definition of daddy's girl. He recently said, "I think I was meant to be a dad." I agree whole-

heartedly

. He's amazing with her. I go to sleep

every

night hoping that there will be more babies for him to love and spoil and snuggle and squeeze down the road.
All of that is fantastic. The problem is that I'm jealous. It's an ugly truth, but a truth nonetheless. I want her face to fill with joy when she sees me. I want her to reach for me ( a new trick that is currently driving a truckload of salt into the wound...and not the good kind of Salt). I want her eyes to sparkle and her little mouth to drop open in a gummy grin at the sheer expectation of me being close.
Don't get me wrong. She loves me. I am her mama. She snuggles and gives kisses and likes to have a hand or foot on me to make sure I'm close by. But daddy is number 1. I don't want to take that spot from him. I don't want him to lose that status I just wish I could share it. Be co-number 1. Like co-captains, but with fewer dorky outfits and much less being aggressive...BE

AGGRESSIVE

BE BE

AGGRESSIVE

!
Alright...I know it's time to move on once cheerleader references show up to the party. Bottom line is that it sucks I can't be home with them. I cry on the way to work...a lot. I miss them like crazy. And slowly we're trying to figure out a plan and take the steps to

remedy

that.