Alright...here's a bunch of random stuff shoved into a single post....
1. Hooray for Friday Follow!!!
Welcome to the May 14 Friday Follow celebration hosted by One 2 Try, Hearts Make Families and Midday Escapades! We invite you to join us every Friday to get more blog followers and to follow other interesting blogs. It is all about sharing and having fun.
Here's how YOU can join the Friday Follow celebration:

* Link up your blog name and URL using the MckLinky [on their sites]. Only need to add on one blog to be seen on all the blog hops.
* Grab the Friday Follow button and include on your Friday Follow blog post.
* Follow the Friday Follow hostesses listed in the first 3 slots.
* Follow as many other blogs on the linky as you'd like
* Take a moment to comment on the blogs telling them you're from Friday Follow
* Follow back when you get a new follower through Friday Follow

2. Pie has a doctors appointment today. Four month check...that means shots. YIKES! Will give the full update later.
3. Snuggling with Husband yesterday and he says, "Hey, is that a gray hair?" And holy sh*t it was! And not just one! There were two!!!! Oh. My. God. My first and second gray hairs. Believe me I studied those bastards in a variety of lights (direct, indirect, natural, soft, florescent, spotlight, flashlight) to make sure they weren't blond. They weren't, as other false alarms have been. Gray hair...what's next...wrinkles?! Oh wait....
UPDATE:

Jumped into the Blog Hop as well!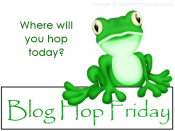 Welcome to the first, ever, edition of Blog Hop Friday, hosted by
My New Life As Mom
,
Chubby Cheeks Thinks
,
Take A Mom's Word For It
,
Bree Bee's
,
This Adventure Our Life
and
Belly Charms
! We invite you and your friends to link up every Friday and join us for a wonderful blog hopping adventure! We're all about making friends and having fun so come join us! Here's how you can join in on the fun;
Link up to your blog, using our inlinkz link list, below.
Follow the host/hostesses located in the first 6 slots.
Follow any other blogs that you feel appropriate! :)
Add the Blog Hop Friday button to your sidebar.
When following a new blog, please remember to leave a little personal comment love.
If you get a new follower, please feel free to reciprocate the love.